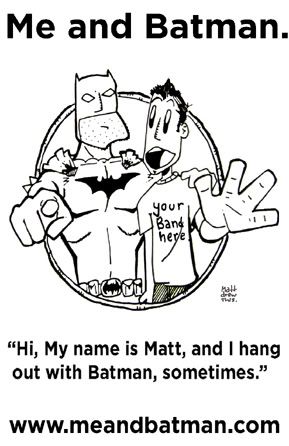 So, you want a free sticker or two?
Then, wait by your mailbox.
"Me and Batman" has never been for profit, so I will never charge for these. However, if you wish to donate a dollar to help me cover postage costs, you can PayPal Reynolds3000[at]gmail[dot]com. Anyone who donates will get extra stickers and a personalized little drawing as a thank-you.
If you live in Canada, the same goes for sending a self-addressed stamped envelope (e-mail me and I'll tell you where to send it)
These are good quality vinyl stickers from the good people at Sticker Guy!.
This is while supplies last, obviously.
ps. I won't start e-mailing you or anything. I'm not a douche.